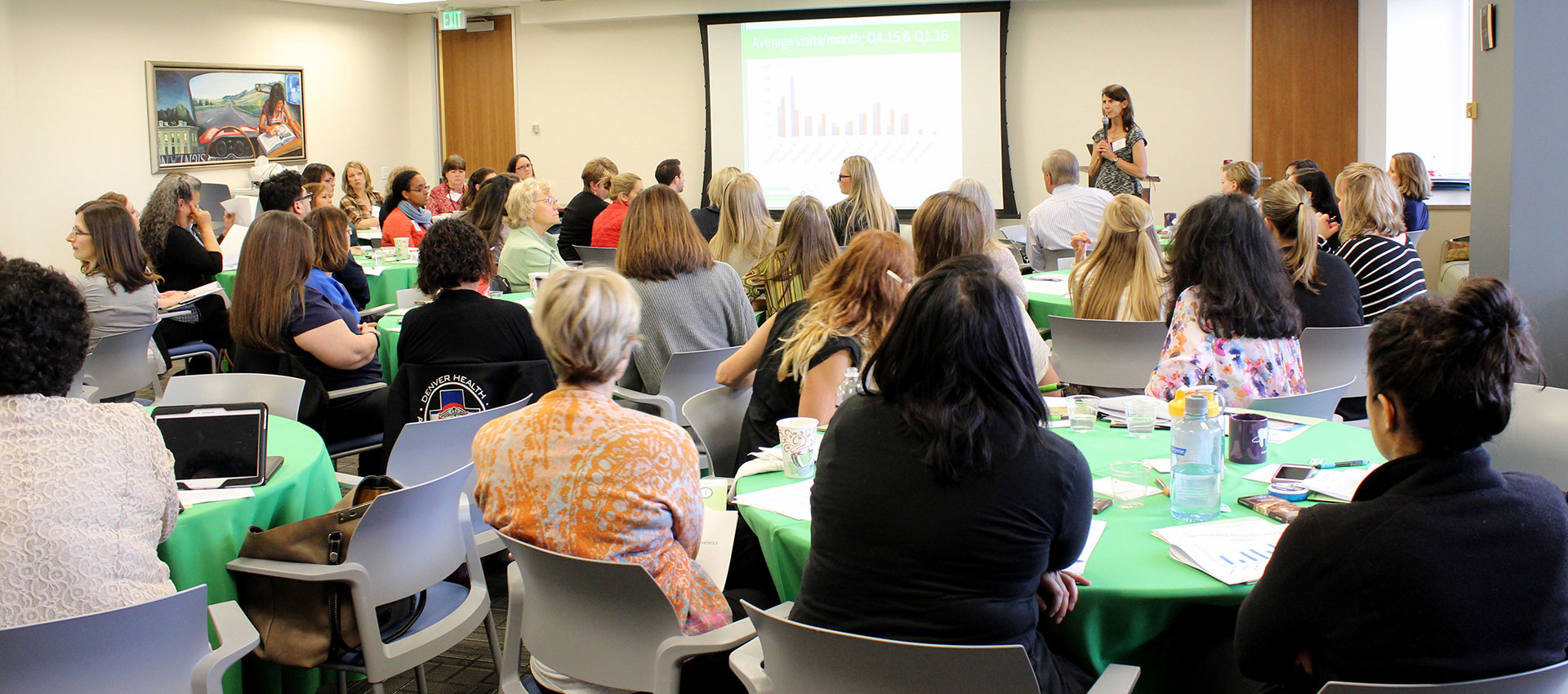 Measuring Progress
Data help provide an accurate perspective of how a project is going. Knowing what data to collect and how to collect that data can be challenging. The CO MDI Project Implementation Team created a data dictionary of the metrics we collected and used. The following outlines some metrics that were particularly valuable in tracking progress toward project goals.
Number of Visits
Tracking the number of visits your dental hygienist sees over time (e.g. per month) is important to identify productivity. Hygienists should see enough patients to improve their oral health and generate revenue to cover the costs of the project (e.g. personnel and non-personnel). Develop a goal for the number of dental hygiene patients seen per day. This goal can come from your budget planning. Tracking the number of dental hygiene visits will help you know if your workflow is working and if you are reaching your productivity targets.
Visits by Age
Tracking the age breakdown of your visits helps you know if and how comprehensively you are reaching your target patient populations.
Visits by Insurance Status
Tracking the insurance breakdown of patient visits helps you understand the reach and inclusiveness of your CO MDI model. It will help with your budget projections/planning. It will also help you be more aware of the oral health needs of your patients. For instance, if your hygienist is identifying and/or seeing a large number of uninsured patients, you may need to consider developing a sliding fee schedule for them if you don't already have one.
Services Provided
Tracking dental procedures/services tells you what your hygienist is doing. This will help your practice:
Encourage evidence-based dentistry (e.g. dental sealants).
Maximize the scope of hygienist's care (e.g. X-rays).
Promote caries risk assessment.
Encourage practice of self-management treatment planning.
Establish and complete treatment plans.
Last Dental Visit
Some measure of patient access to and receipt of dental care will help you describe how your CO MDI model is filling an oral health care gap.
Dental Referrals/Completed Dental Referrals
To establish a comprehensive dental home for patients, your hygienist needs to have a strong relationship with a dentist for referrals. Referring patients is the first step; confirming that the patient completed the follow-up visit is even more important. Tracking the number/percent of patients referred to a dentist and number/percent of referral visits attended is important to:
Close the dental-care loop.
Secure treatment for the dental needs of your patients.
Ensure that dental referrals are productive extensions of your CO MDI model.
Complete treatment plans.
Expenses and Revenue
Tracking expenses helps you create a streamlined project and minimize waste. Tracking income will help you monitor your revenue cycle and identify gaps that need to be addressed (e.g. denied claims). It also helps you know how well you are covering your project costs.
At a larger level, consider aligning the data your practice collects with other measures you might be tracking as part of your work. Common measures include:
The annual Uniform Data System (UDS) reporting requirements for all health centers that receive federal award funds under the Health Center Program, authorized by section 330 of the Public Health Service (PHS) Act (42 U.S.C. 254b) ("section 330"), as amended (including sections 330(e), (g), (h), and (i)), as well as Health Center Program "look-alikes."