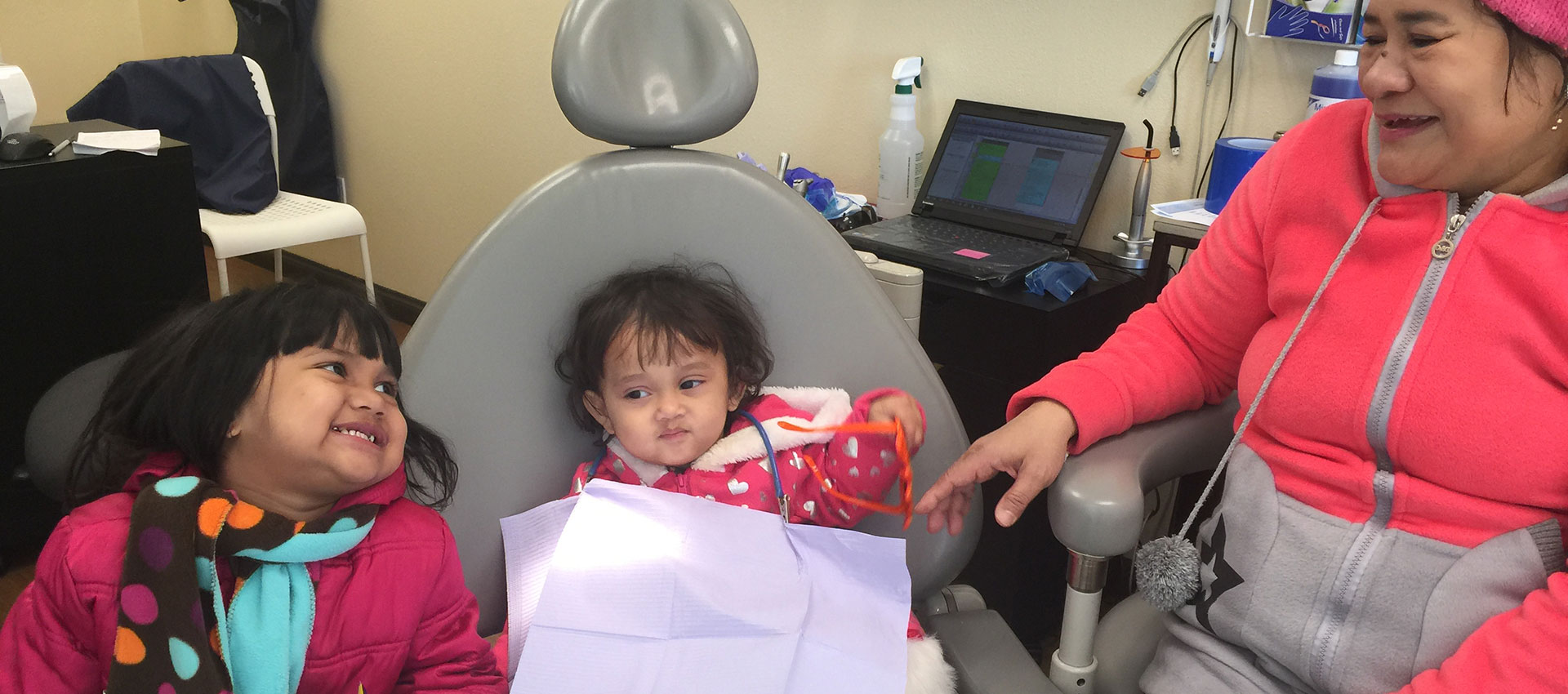 Relationships with Dentists
A comprehensive dental home is not complete without a dentist. Connecting patients to dentists for their exams and restorative care is key to improving their oral health. Here are some scenarios from Wave I of the CO MDI Project that demonstrate a medical practice's relationship with a dentist:
Organizations with both medical and dental: Some organizations may already provide dental care. This could be a standalone dental clinic. It could be a medical clinic with a dental clinic co-located under the same roof. The organization may have some locations with co-located dental clinics and some without. Having dentists as part of the system should be viewed as a resource. The dentist/s can have the following roles in medical-dental integration:

Be part of the planning team and help develop the CO MDI model and systems for coordinated medical/dental hygienist/dentist referrals.
Provide exams, definitive diagnosis, restorative and surgical care to patients referred by the hygienist.
Provide direct or indirect supervision for the hygienist (e.g. anesthesia for scaling and root planing).
Be the billing provider for the hygienist, if appropriate to your practice's credentialing scenario.

Having medical and dental practitioners in the same organization increases successful coordinated referrals for dental exams and restorative or surgical care. Include your dentist/s from the beginning to gain their support and insight into this work. If your practice's dentists don't have the capacity to see all referrals, consider advocating for the expansion of your dental practice/s and/or establishing referral relationships with outside dental practices.
Organizations that are medical only: Many medical practices do not have dentists as part of the organization. In this scenario, you will need to develop a referral relationship with an external dental practice (or multiple practices). Dentists at external dental practices can have the following role in collaboration with the medical practice:

Provide definitive diagnosis and restorative/surgical care to patients referred by the hygienist.
Provide indirect supervision for the hygienist (e.g. anesthesia for scaling and root planing).
Developing a Relationship and Successful Referral Process with an External Dental Practice
A successful referral between a hygienist and a dentist includes accurate, bi-directional, and timely communication about the reason for, and outcome of, the referral. In organizations that have both medical and dental this important communication is more direct. However, that does not negate the need for the medical team to build a strong relationship with the dental team for the purpose of this project. In medical practices that do not provide dental care by a dentist, alternate communication channels and systems may need to be created. Some ideas for developing relationships and successful referral processes with external dental practices include:
Initiate the relationship face-to-face. Phone calls are often a good start to establishing relationships; however, there is value in establishing a face-to-face relationship.

Include key team members including the hygienist and practice administrator.
Try to meet the individual on the dental practice team who makes decisions regarding how to set-up a successful referral process. This may be the owner, dentist, or the office manager and may require strategic timing with times when they are available.
Consider taking a small gift with you such as bagels, cookies, muffins, etc.

Be ready to explain the project and why a successful referral relationship is important. Highlight the project's intention to increase access to dental care for vulnerable populations who aren't already accessing it.

Describe your practice's target population, their disease burden, and their challenges accessing dental care.
Explain that your practice is focused on providing patients comprehensive dental care and not just dental hygiene services.
Emphasize the role that the dentist has in improving the oral health and overall health of patients.
Advocate for developing a system that supports comprehensive, patient-centered care and open communication.

Sell what you're offering. Share that you have patients who need restorative services and aren't getting them elsewhere.

Your referrals could support a full schedule for the dentist.

Discuss the required processes to develop accurate, protected, bi-directional, and timely communication. "Work-arounds"- such as encrypted emails or confidential faxes - may be required when working with external dental practices.

Identify a key contact person to streamline communication.
Express that you would like to establish a timely communication with the key contact person that includes a summary of the dental visit and the next steps.
Set-up monthly or quarterly meetings. Communicate your desire to maintain the clinical relationship between your hygienist and the patient. Ask them to send the patient back to your hygienist for recall dental hygiene appointments after the restorative/surgical work is complete.

Leave a visual. Provide a summary of the project and include your contact information.
Maintaining Successful Referral Relationships with Dentist/s
Maintaining a successful relationship with a dentist is a critical piece of integrated care. Continuous focus on best practices for communication, care delivery, and overall process will result in better outcomes over time. Develop a plan to communicate with the dental practice through frequent personal contact via email, phone, and/or letter.
Send occasional thank you cards or smalls tokens of appreciation to the dental office for their collaboration.
TIP
If you are storing or transmitting (emailing) patient information to another entity (e.g. from your medical practice to an outside dental practice), the storage or communication must be HIPAA-compliant. Follow your organization's HIPAA policy and procedure for storing and/or emailing information externally and adapt to ensure dental is included.