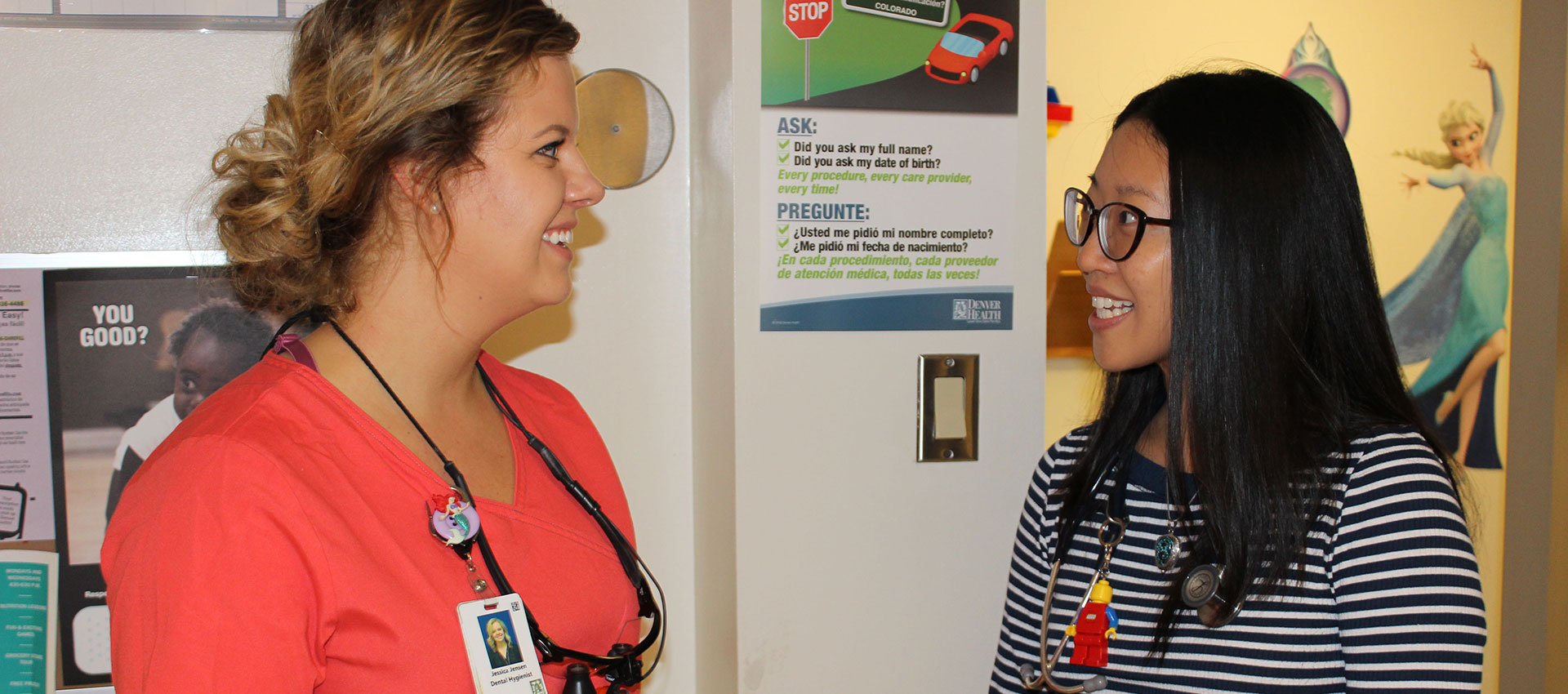 CO MDI model
The CO MDI model of medical-dental integration promotes the delivery of full scope dental hygiene services in the medical practice. Each practice has unique characteristics that influence the exact structure of the model. Some of these characteristics are:
Target population.
Number of medical patients seen per day.
Number of medical providers in the practice.
Provider preferences.
Provider schedules.
Patient ages and demographics.
Patient oral health awareness.
Patient demand for dental care.
Payer (insurance) mix of practice.
Capacity of the practice's electronic medical/dental records.
These characteristics determine a practice's need for dental hygiene services and how the services will be best delivered to patients.
Key characteristics of the CO MDI model
There are several essential characteristics of the CO MDI model:
Dental hygiene services in a medical practice. The dental hygienist specializes in providing preventive dental services, education, and connecting patients to dentists for comprehensive care.
Full scope dental hygiene services. A licensed hygienist may offer the full scope of services permitted by the Colorado Dental Practice Act. Review this act to learn more about services within a hygienist's scope of practice such as:

Dental screening.
Education.
Dental sealants.
Cleanings.
X-rays.

Evidence-based dentistry. The hygienist provides evidence-based care, which is a patient-centered approach to treatment decisions that provides personalized dental care based on current scientific knowledge.
Extension of the dental home. The hygienist functions in the medical practice as an extension of the dental home. S/he develops relationships with dentists to refer patients for exams and restorative care. S/he follows up with the dentists regarding completion of treatment. S/he also schedules the patient for future dental hygiene visits in the medical practice.
Dental hygiene exam room within the medical practice. The dental hygiene room is in the medical clinic, not in a dental clinic. This is true even if the medical practice has a co-located dental clinic. When there isn't available space in the medical clinic for a dedicated dental hygiene room, a dual-function room can be used with mobile dental equipment. This is a room shared for medical and dental services.
Full time dental hygiene services. The hygienist is in the practice four to five days per week.
Hygienist as part of the medical care team. The hygienist participates in medical care team work including huddles, provider meetings, and treatment planning.
Integrated dental hygiene services. The CO MDI model strives toward a high-level of integrated services versus co-located or only coordinated services.
Services offered in both the medical and dental exam rooms. Screenings, oral health instruction/education, and fluoride varnish applications are services that can be provided in a medical exam room during a medical visit. These services, along with a broader range of dental hygiene services, may be provided in the dental hygiene exam room. This flexibility supports a few concepts:

Providing preventive oral health services in the medical exam room reinforces the value the practice is placing on oral health. It may help patients begin to understand that their oral health is an important part of their overall health.
The medical exam room visit is a "gateway" to new dental hygiene patients. It is an opportunity to connect with a patient that may otherwise be missed.
Not every patient will need to be seen in the dental hygiene chair. Patients may be too young, too healthy, or the time is not right for services that have frequency limitations (such as a cleaning that should be offered every six months).

Services delivered by various members of the care team. Medical providers can support dental professionals by conducting oral health screenings, applying fluoride varnish, and communicating the importance of oral health.
More services offered at one location, during one visit. As much as possible, medical and dental services are received during the same visit. When this happens barriers to care are reduced. These visits can be pre-scheduled or occur the same day.
Scheduling future appointments. Sometimes a patient will have oral health needs but will not be able to receive care that day. In these instances, the schedulers and care team can assist the patient in scheduling a future dental hygiene appointment before leaving the clinic. If a patient leaves without scheduling an appointment, it is less likely that an appointment will be scheduled at a later date.